Semiconductor wafer cleaning process introduction!
11-06
Introduction of Semiconductor Wafer Wet Cleaning Process
Contamination determines the final yield of the chip to a certain extent, and the semiconductor cleaning process is the most critical step in the semiconductor manufacturing process. In general, in the semiconductor manufacturing process, the cleaning process will account for more than one-third of the total process steps.
At present, there are various cleaning processes, generally including wet cleaning and dry cleaning. Due to its actual cleaning effect and production feasibility, wet cleaning is currently the mainstream in the market. This article focuses on wet cleaning.
Wet cleaning methods mainly include: RCA cleaning, diluted RCA cleaning, IMEC cleaning, single wafer cleaning, etc. details as follows:
1. RCA cleaning
The standard wet cleaning process in the industry is called RCA cleaning process, which was proposed by W.Kern and D.Puotinen of Radio Corporation of America (RCA) in 1970. It is a No. 1 standard cleaning solution mainly composed of hydrogen peroxide and alkali. (SC⁃1) and No. 2 standard cleaning solution (SC⁃2) composed of hydrogen peroxide and acid for a series of orderly cleaning. The characteristic of the RCA cleaning process technology is to select the corresponding cleaning solution according to the type of pollutants that should be removed, and perform the cleaning process of different chemicals in order to remove all kinds of pollutants attached to the silicon wafer. It should be noted that after each use of chemicals, it must be thoroughly washed in ultrapure water (UPW) to remove residual components, so as not to contaminate the next cleaning process. A typical silicon wafer wet cleaning process is shown in Figure 3-1. There are some changes in the actual order, and corresponding adjustments should be made according to the actual situation and some HF/H2O (DHF) deoxidation steps should be added.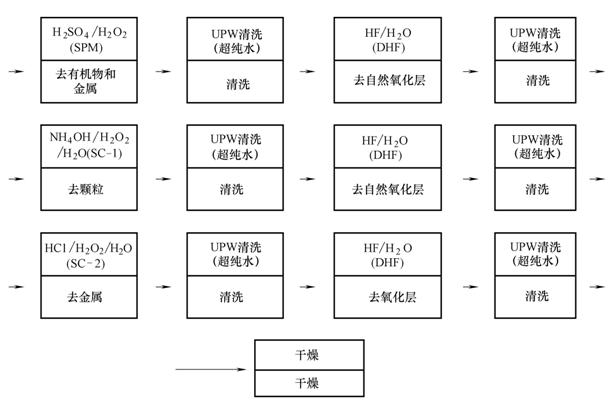 Typical Wafer Cleaning Process
1) The first step is to remove organic matter and metals, and the reagent used is H2SO4/H2O2 (SPM).
2) The second step is to remove particles. Generally, NH4OH/H2O2/H2O (APM) No. 1 standard cleaning solution (SC-1) is used.
3) The third step is to remove metals, generally using HCl/H2O2/H2O (HPM) No. 2 standard solution (SC-2).
4) The fourth step is to carry out centrifugal drying in a rotary dryer, and further replace and dry with a low-boiling organic solvent.
After independent research and development, Kunshan Zhicheng Automation Equipment Co., Ltd. has developed a dry-in and dry-out fully automatic RCA cleaning machine, which is safe, reliable and highly stable.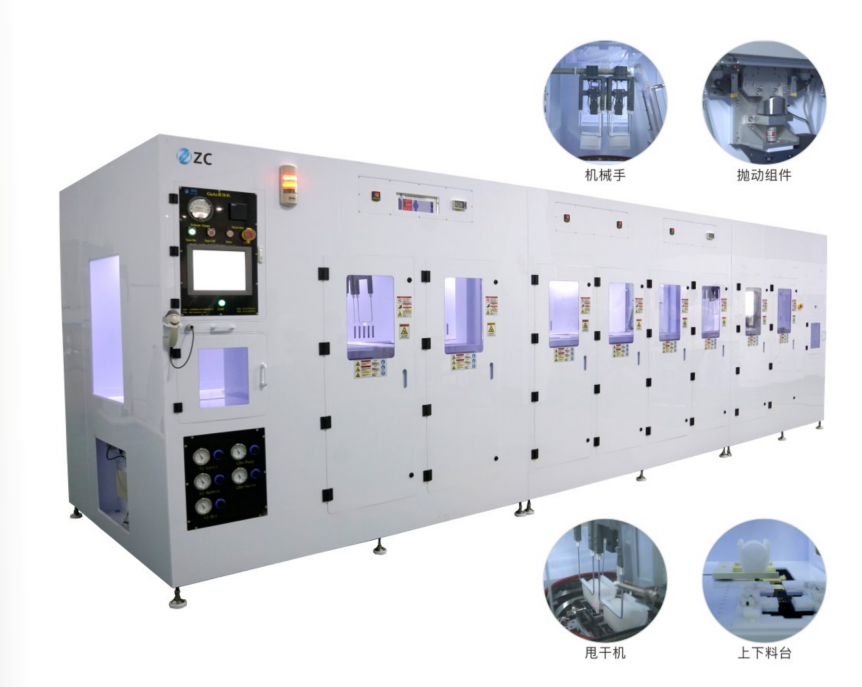 Kunshan Zhicheng Automation Equipment Co., Ltd.-RCA Automatic Cleaning Machine
2. Dilute RCA for cleaning
There are many problems in the current RCA cleaning method: many steps, high consumption of ultrapure water and chemical reagents, high cost; use of strong acid, strong alkali and strong oxidant, dangerous operation; reagents are easy to decompose, volatilize, and have a pungent smell. Ventilation, which increases the continuous cost of the ultra-clean room; there are serious environmental protection problems; the silicon wafers dry slowly, and poor drying may cause all previous efforts to be wasted, and it cannot match the subsequent vacuum system. Many of these problems cannot be overcome by RCA itself.
3. IMEC cleaning
Based on the successful experience of using diluted chemicals, IMEC (Interuniversity MicroElectronics Centre, Interuniversity Joint Microelectronics Research Center) proposed a simplified cleaning method for ozonation and diluted chemicals. The first step to remove organic pollutants is usually a mixture of sulfuric acid, but due to environmental considerations, ozonized deionized water can be used under correct operating conditions (strict control of temperature and concentration parameters), which reduces the number of chemicals and deionized water consumption, and avoid the complicated rinse steps after the sulfuric acid bath. At the same time, using this cleaning method to replace the standardized SPM cleaning method can increase the service life of the acid tank by 3 times. The second step uses the optimized mixed diluent of hydrofluoric acid and hydrochloric acid, which can suppress the deposition of metal ions such as Cu and Ag while removing the oxide layer and particles. Because metal ions such as Cu and Ag are deposited on the surface of Si when they exist in HF solution, the deposition process is an electrochemical process. Under the condition of light, the surface deposition speed of copper is accelerated.
4. Single wafer cleaning
With the continuous shrinking of critical dimensions of device process technology and the introduction of new materials, surface treatment in front-end-of-line (FEOL) becomes more important. The reduction of critical dimensions narrows the cleaning process window, making it very difficult to meet cleaning efficiency while minimizing surface damage and structural damage. The above traditional batch processing methods are increasingly unable to adapt to the practical application of wet cleaning. The manufacturing process requires other new cleaning steps to ensure that important device specifications, performance and reliability are not greatly compromised by contamination. In addition, batch wet processing cannot meet critical diffusion and CVD techniques for processes such as rapid thermal processing (RTP). Therefore, the industry is gradually tending to use single-wafer wet cleaning processing technology to reduce the risk of cross-contamination during the important cleaning process, thereby improving product yield and reducing costs. Single-wafer cleaning processes are also better suited for the transition to new materials such as copper and low-k dielectrics.
After years of research and development, Kunshan Zhicheng has successfully developed a single wafer cleaning machine with 2/4/8/16 chambers, which can be customized for 6 /8/12 inch silicon wafer cleaning.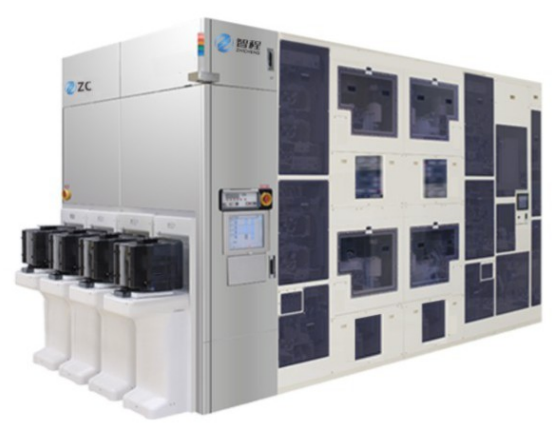 Kunshan Zhicheng Automation Equipment Co., Ltd.-Single wafer cleaning machine