Kunshan Zhicheng developed the fourth generation horizontal centrifugal dryer
11-06
Kunshan Zhicheng Automation Equipment Co., Ltd. developed the fourth-generation horizontal centrifugal dryer
In the wet cleaning process of semiconductor wafers, drying is also one of the most critical steps. If the drying effect is not good, it will cause the wafer to be polluted again and leave water marks, which will have a great impact on the yield rate of chip production, will lead to rework and cleaning of the wafer, and even cause the chip to be scrapped in severe cases.
After cleaning, if the wafer is kept clean and dry, it is also one of the difficulties in the semiconductor cleaning process. The drying methods currently on the market mainly include centrifugal drying, IPA, Marangoni drying and so on. Due to its wide applicability and high capacity, centrifugal drying is currently the most used drying method.
Centrifugal drying machines are divided into vertical drying machines and horizontal drying machines. Compared with horizontal drying machines, vertical drying machines have high speed and low production capacity; It has been adopted by most processes at present.
The principle of the horizontal drying machine is as follows. It mainly uses the centrifugal force when the turntable rotates at high speed to quickly remove the water droplets on the surface of the chip to achieve the purpose of drying: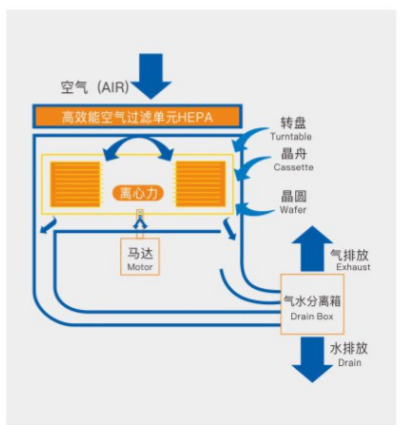 Kunshan Zhicheng Automation Equipment Co., Ltd. has an independent research and development team in the horizontal centrifugal dryer. Over the years, the horizontal centrifugal dryer has undergone many upgrades, and finally ushered in the fourth generation of products recently. . On the basis of the original third-generation horizontal drying machine, Kunshan Zhicheng's R&D team once again carried out a comprehensive upgrade: the new product has smaller vibration, lower noise, faster drying speed, smaller Increased amount of particles, wider use conditions, lower energy consumption, and more diversified customer needs.